So, wow, I just came over here and realized that I hadn't posted since June. June! This is a perfect example of how hectic and unorganized my life has been, be it personal or crafty or work. It's a New Year and while I won't go so far as to say it's a new me, it is a slightly more organized me... at least in the sense of crafting, that is...
Many things have happened in my crafty life and my personal and work life since that last post in June. Probably the biggest, craft-wise, is the effort I've been making to no longer be a "crafty hoarder". I have been purging my project room of supplies I've rarely, if ever, used, and rearranged a bit and made it more friendly to "drop-in" crafting... meaning I don't have to clean in order to craft anymore. I still don't have every craft supply I own in the project room, which is my ultimate goal. I still have my yarn and hooks and needles and such in other rooms, but my goal is to have all my supplies in my project room by the end of this calendar year. It's definitely doable without sacrificing all my spare time to make it happen. Purges throughout the year will help it happen.
Another thing that will help me reach my goal will be to finish my UFOs and WIPs and use up more yarn stash. On that note, I definitely need to do more charity crafting, so I'm visiting a Project Linus meeting for the first time next weekend and once I realistically look at my crafting time and how I spend it, I will set myself some goals as far as how much to finish for Linus and by when.
2011 is also the "Year of the Quilt" for me. I have vowed to complete a quilt (no size specification) from beginning to end this year. Helping me along with that is my participation in the Project of Doom as a member of the Harry Potter PaperPiecing group on Livejournal.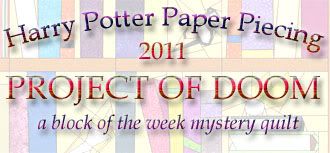 Go ahead, click on the banner and check it out! It's a Block of the Week Mystery Quilt designed, organized and run by my awesome bff Jennifer, and all the squares are paper-pieced. I am very new to this, so it's slow going for me and I'm already behind, but I'm looking forward to Presidents' Day Weekend to get caught up. So far I have finished Block 1 and Block 2 and I've barely started Block 3. Block 4 was released this past Wednesday, so that tells you how far behind I am. but that's ok. It's helping to make me a more confident crafter.
   After getting a bit more organized in my craft room I was able to do some gift crafting this xmas. I'll leave you with a small picspam of my favorites:







Stenciled pillowcase for my DH. "He Sleeps Well"

Stenciled t-shirt for my DD


Stenciled t-shirt for my BiL